5-MONTH IMMERSION 
RADICALLY TRANSFORM YOUR COACHING,
LIGHT THE PATH OF HEALING …
and build a thriving practice while you're at it.
For big-hearted coaches who know the power of holistic coaching and desire to bring that experience to others.
YOU HAVE A HEART FOR THE HURTING
And you're tired of fluffy coaching programs that talk a big game but deliver only surface-level results. You want to actually help people get to the roots of their issues… but you don't know what's missing!
You've experienced transformational coaching and feel a deep knowing that it's your path to offer this work in the world… despite feelings of self-doubt, insecurity, or overwhelm. 

BECOME A BEACON OF CHANGE IN A DARK WORLD 


This isn't taught in schools.
We often don't learn it at home.
It's not imparted to you by society or culture. 
And yet it is the stuff that makes life work… (or not)
This work is meaningful and it IS a big responsibility. If you have been coaching (or thinking of starting a practice) but have had trouble getting real results, the issue isn't you.  
The issue is the lack of a framework that facilitates deep, transformational change. 
If you desire to be a coach who can consistently and reliably facilitate deep change and fundamental shifts – you have to address the roots of the problem. And to do that you'll need a path to:
Identify the deeper issues
Know the steps to bring this to the client's awareness 
Understand how to support the client through the change process 
Communicate clearly + compassionately
Understand how to empower the client to be the force of power in their own life
If you desire clarity, confidence & alignment in your coaching practice you'll need a framework that is predictable, repeatable, and potent no matter the client's situation without being cookie-cutter. 
ENDORSED BY THESE COACHES AND HEALTH INDUSTRY LEADERS 
MIKE SALEMI
Human performance expert and host of THE PATH Podcast
"I consider Jator to be not only a dear friend but a Jedi when it comes to coaching."
PAUL CHEK 
Founder of the CHEK Institute 
" It is a real blessing to have such a great, passionate, AUTHENTIC instructor like Jator out there sharing my CHEK Institute legacy."
CHRIS KRESSER 
Founder of the KRESSER INSTITUTE
"Jator brings wisdom, compassion, & insight into everything he does. His guidance and support are transformative. I can't recommend him enough."
JP SEARS 
Comedian, Author, Speaker
" ... most importantly, he empowers clients to solve why their problems were created in the first place."  
INSIDE ILLUMINATE YOU'LL GAIN THE SKILLS TO
CONFIDENTLY FACILITATE REAL, SUSTAINABLE CHANGE WITH YOUR CLIENTS
WITH TWENTY WEEKS OF HIGH-CALIBER HOLISTIC COACH TRAINING  
Inside we'll cover things like: 
A framework you can rely on so that you can remain present and adaptable in sessions
The life-changing power of questions

Active listening: Understand how clients feel seen, heard, and validated

Developing your intuitive abilities

Self-coaching and going deep within so that you can effectively lead others

Confidence to set and maintain boundaries around sticky issues like time + money

Going beyond the literal; Symbolism, symbolic thinking, and metaphor 

Self-care and tending your own vessel

How to tap into your uniqueness to your practice

Discover the sneaky dynamics that lead to coach burnout and how to avoid them completely...

...and so much more
HOW WOULD YOUR PRACTICE BE DIFFERENT IF YOU HAD...
Able to confidently facilitate effective holistic coaching sessions because you have developed the skills of curiosity and non-judgement, and know how to navigate the waters of a fluid client-centric coaching session.
An awareness of how to avoid sticky legal concerns, reputational damage, client harm, and grey-area behavior before it ever even comes up by having a clear understanding of the ethical guidelines of the coaching industry and why they matter. 
A full calendar of clients with unique and specific challenges and not feeling anxious or uncertain of how to proceed with any of them because you understand where to begin and how to finish strong.
You are familiar with the foundational skills of getting to the root cause of symptoms, the process of change, and how to guide your clients through the process so that they walk away with authentic transformation – possibly after years of searching for answers. 
A healthy and thriving coaching practice that you are happy and proud to promote through your confidence to successfully lead effective sessions that facilitates change and gets results for clients. 

(This is the life of an Illuminate Coach)
Globally recognized holistic coach and coach-mentor Jator Pierre has been coaching for over two decades.
Using a vast toolbox of modalities to bring about lasting change in his clients, his work primarily focuses on emotional trauma, auto-immune issues, digestive disorders, chronic stress, and chronic pain.
He is passionate about seeing the bigger picture and how that trickles down to the underlying mechanisms which lead to pathology, disease, and symptoms. His purpose is to help people examine and understand how the body functions and how each physical symptom correlates to and is expressive of underlying mental, emotional, and behavioral patterns.
INSIDE ILLUMINATE
Each month we will flow through the content in a rhythm that allows us to cover multiple layered perspectives 
WEEK 1: We will introduce the basic concepts for the month, explore what they are, create a shared language of understanding, and learn to worth with these concepts. This helps to orient you to where you are and where we're going together. 
WEEK 2: We will take these concepts deeper to explore them within ourselves to experience the power of these concepts in our own experience.Just knowing the information is not transformative. Applying it is.  This is a week of inward focus. We will explore basic concepts on a personal level and how they relate to the self. 
WEEK 3:  In the third week of each month we focus on bringing these concepts into the session with your clients. Understand the dynamics of the change process and lead another through the concepts you have experienced. How do they differ in relation to a person in front of you? 
WEEK 4: Integration week. No new module content. Guest speakers to help facilitate integration and explore complementary concepts from thought leaders I trust. 
You'll get what I call "time under tension" through peer coaching and practical sessions that will offer you the experience of this new style of coaching. Learning in this way encodes the information at a whole different level than lecture-style programs.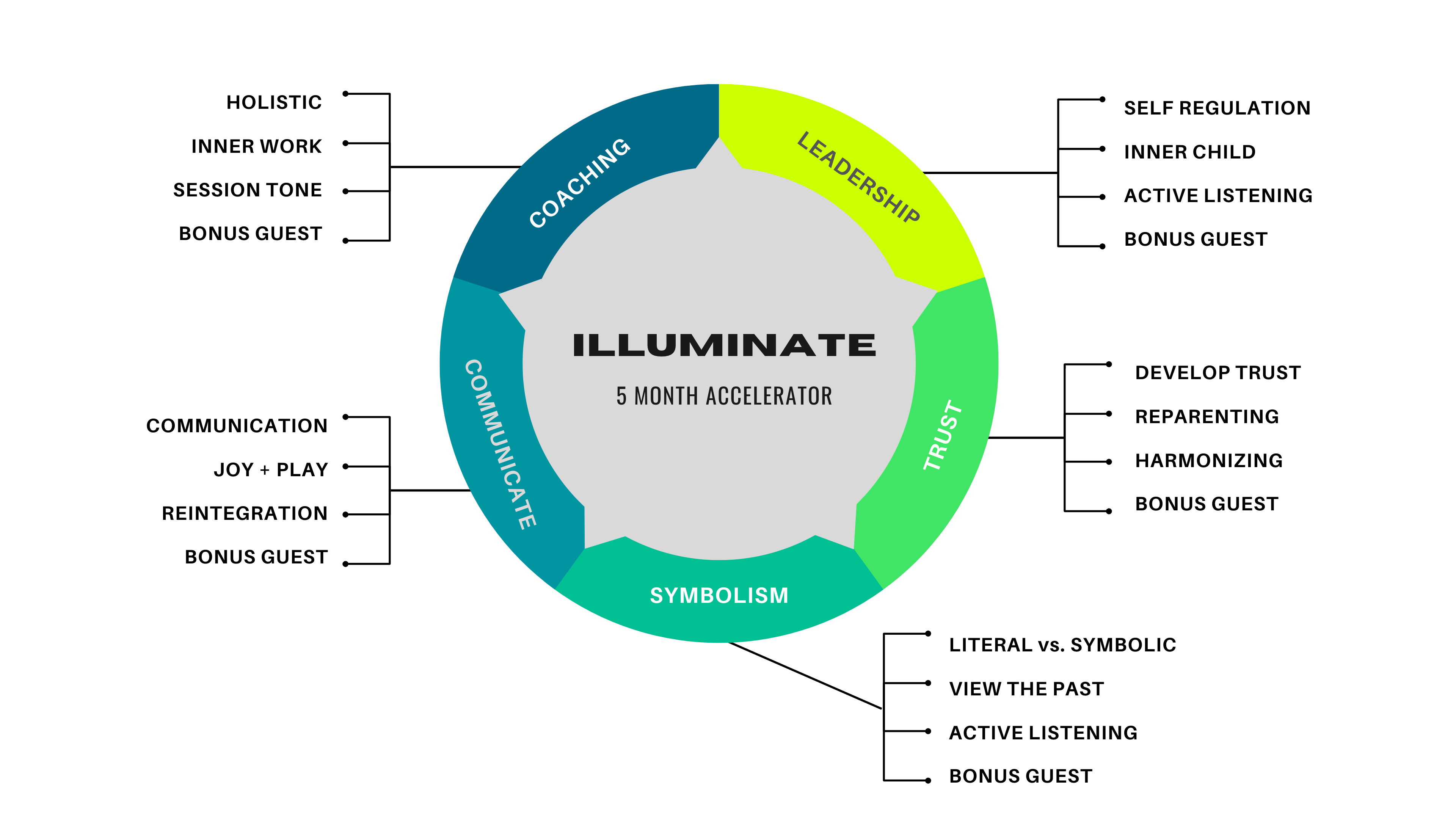 DON'T JUST TAKE MY WORD FOR IT...
Here's the word on the street about Illuminate already.
 
SCHEDULE
Each month of the program we will focus on a particular theme offered in the rhythm of Jator's coaching method as you begin to absorb the Illuminate Framework. 
HOLISTIC COACHING
Understanding how inner holistic coaching differs from typical life coaching and defining your role as a holistic coach.
LEADERSHIP
You can only take clients as deep as you are willing to go yourself. We'll cover self-awareness and experiential learning.
BUILIDING TRUST
Develop a new relationship with trust. Learn how to foster trust in the coach/client dynamic as well as how to connect with and trust your intuition.
BEYOND THE LITERAL
Going beyond the literal to the symbolic. Dive into the wisdom contained in archetypes and come to see the world, yourself, and your clients in a completely new way.
POWER OF JOY + PLAY
 Integrating the original self and conscious communication in a world that hasn't changed. Introducing joy, lightness, and play.
EXTRAS THAT MAKE THIS PROGRAM SING
BONUSES
We want to support your progress throughout this program and so here are a few things we have added to be sure you have all that you need to light up the world:
Peer to Peer Coaching Partner 
You'll be partnered with a peer to practice your skills throughout the course.
You don't have to do this alone.  
Guest Thought Leaders
Bonus calls each month with 2 expert thought leaders that I go to for insight. 
We need new perspectives to help us grow in new ways. 
Coaching Archive
Library of 70 + laser coaching calls with notes and feedback from Jator. 
See how this work applies in a variety of situations.
Completion Certificate
You'll be an Illuminate Certified Coach with the physical and digital certificate to prove it.
CHEK Practitioner CEUs
One year of continuing education credits (CEUs) with the CHEK Institute.
Extra Month of Support Calls
Get an extra four weeks of support when we conclude to assure that you have the awareness and experience you need to be successful. 
WE START OCT 3rd
WILL YOU BE WITH US?
00
days
00
hours
00
mins
00
secs
WHO ILLUMINATE  IS FOR 
People who want to participate in healing as a career and calling
Change-agents and those who don't go with the status quo
People who aren't afraid to take responsibility for their lives and their outcomes
Those who desire to facilitate deep, meaningful change in the world
Coaches at all levels of training and experience
DEFINITELY NOT  FOR ANYONE WHO
Is looking for trendy advice or a quick and easy certification
Unwilling to do deep inner healing work
Afraid to or unwilling to experience emotions
Want or need to be told what to do
Dispense advice, control the actions of others, or generally wants to tell other people what to do

If you desire clarity, confidence & alignment in your coaching practice you'll need a framework that is predictable, repeatable, and potent no matter the client's situation without being cookie-cutter.